By Amelia Mezrahi, New York, NY
For students not looking to pursue a traditional 4-year degree, one popular route is a trade or vocational program. There are a staggering range of choices and careers as varied as web design, dental hygiene, paralegal, electrician, and aircraft maintenance. But all of the best vocational programs offer comprehensive training, along with strong placement prospects and career support. There are three key considerations in selecting a trade school.
First, look carefully at the career you want pursue. The differences in lifestyle, career demand, and potential pay are significant. For example, health-related fields often have some of the best job placement rates, along with competitive salaries and benefits. Commercial pilots continue to be sought after in the market. However, traditional secretarial or paralegal jobs face uncertain demand in the coming decades. In general, the most attractive fields require more training and longer programs (often in coordination with some college credits). This means a bigger investment. But on the upside, remember the more difficult it is to get certified for a position, the better the salary and job security are likely to be. There are also some less "sexy" fields that may never cross your mind without research. For example, elevator installers often have relatively high salaries and are not really subject to future automation or outsourcing.
Second, you will also want to research the specific job market in your area. Demand for electricians, welders or commercial divers can vary enormously by city or state. Also, if the job you are looking at requires a state license or certification, it is a good idea to check and see if it is transferrable to other states, in case you ever choose to relocate.
Third, you need to research individual programs very carefully. The strength and reputation of schools are highly variable. Virtually all programs will claim to offer help with job placement. The key question is what actual hard data can schools supply about job placement rates (in their field) and expected salary after graduation. Other questions to ask are: What is the graduation rate from the program? How much debt will you need to take on in the program? And what support do they currently offer to their students?
In summary, you can consider many trade professions and programs as an alternative to a 4-year college degree that could result in a meaningful and stable career. But, it is best to do so after careful research and with an eye to your talents and long-term goals.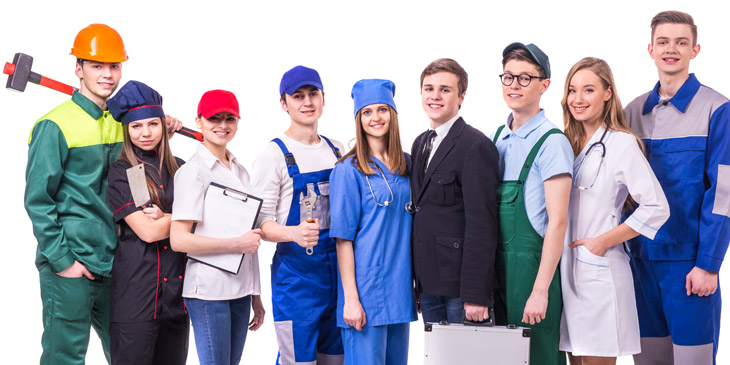 Top 10 highest paying jobs (based on Median Salary)
Commercial Pilot (Non-Airline) Median pay—$76,150 Top pay—$147,890 or mo
Dental Hygienist Median pay—$72,330 Top pay—$98,440 or more
Diagnostic Medical Sonographer Median pay—$68,970 Top pay—$97,390 or more
Registered Nurse Median pay—$67,490 Top pay—$101,630 or more
Web Developer Median pay—$64,970 Top pay—$116,620 or more
Police Officer Median pay—$58,320 Top pay—$96,110 or more
Respiratory Therapist Median pay—$57,790 Top pay—$80,440 or more
Electrician Median pay—$51,880 Top pay—$88,130 or more
Plumber Median pay—$50,620 Top pay—$89,720 or more
Commercial Diver Median pay—$50,470 Top pay—$88,470 or more
Sources are:
* Trade-schools.net
* 2012 American Community Survey, U.S. Census Bureau, website last visited on April 20, 2016.
** Bureau of Labor Statistics, U.S. Department of Labor, Occupational Employment Statistics, website last visited on April 7, 2016.
*** Bureau of Labor Statistics, U.S. Department of Labor, Occupational Outlook Handbook, 2016-17 Edition, website last accessed on February 17, 2016.